SPEAKING
Engage Your Employees
Does your team need some inspiration and energy?
Are you looking to remind them why they matter?
Preston Poore creates an engaging experience that will accelerate your audience's capabilities and elevate their leadership. His keynote addresses are not the typical stagnant speech. Preston is dynamic and works to customize the message for your organization's needs.
Represented by
Voices To Connect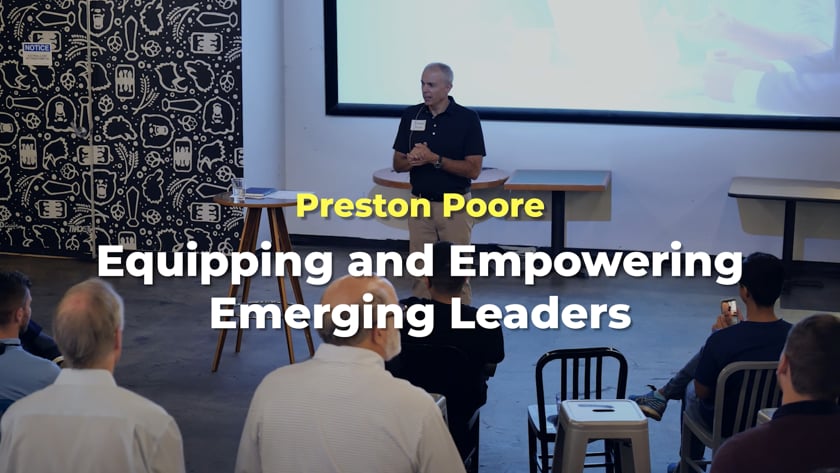 Preston offers a variety of keynote speaking topics, including Connecting Matters, Becoming a Leader Others Will Want to Follow,  and The Power of Influence.
All his speaking engagements are designed to benefit your employees on a personal level, as well as your organization.
Start your organization's journey to a more productive, purposeful, and prosperous future.
"Preston spoke at our annual leadership breakfast fundraiser. This role is typically reserved for one with experience at the highest levels of leadership. He exceeded our expectations. He was poised and poignant in both his message to our members and his personal interactions before and after the program. I wholeheartedly recommend Preston and do so without the slightest reservation."
Craig Fry
President/CEO Christ LedCommunities (CLC)
"Preston created an environment of learning, memorable experiences, and shared frameworks that have led to a great team spirit that has helped us emerge stronger over the last few years of crisis. I highly recommend Preston for speaking, coaching and training engagements."
Andy Buckingham
General Manager at The Coca - Cola Company
"Preston Poore brings together storytelling, humor, and antidotes with compelling facts that get the audience to engage and take action."
Michael Mathews
Vice President, Commercial Excellence at Kimberly-Clark
"His audiences rightly hang on his every word and his ability to use anecdotes, facilitation, and conceptual thinking is highly developed compared to any global benchmark."
Stephen Gibson
Managing Director at Gibson Hallmark Ltd